What is Enrich?
A Model of Care is put simply, a way of describing 'HOW WE CARE' for our residents. It captures what is important to our residents and our collective role in serving each individual while respecting their intrinsic dignity.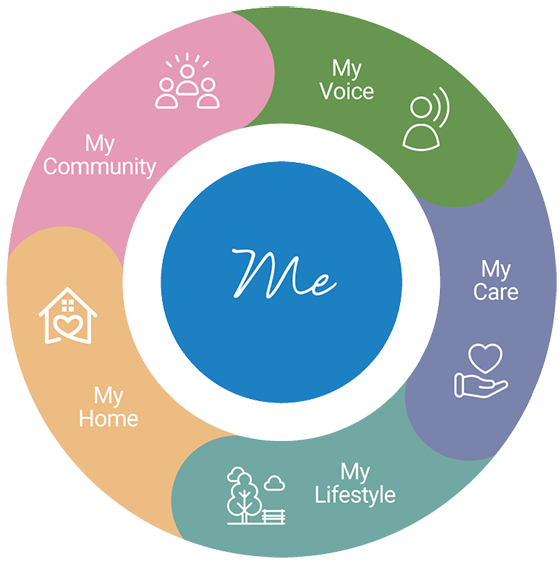 Enrich reflects the best of what we do today and provides a strong and unifying foundation for us going forward – one that is aligned with best practice and reinforces the intent of the new Aged Care Quality Standards.Importantly, Enrich reflects our diversity and the diversity of our residents. As we welcome new residents and families in new geographies, Enrich describes 'HOW WE CARE'.Enrich recognises our residents are at the centre of everything we do.Enrich consists of five elements, with the resident at the centre.
MY VOICE
MY CARE
MY LIFESTYLE
MY HOME
MY COMMUNITY
How have we developed the Enrich Model of Care?
Throughout the past year, we have reviewed the best of what we do every day and asked our residents, what is important to them.
An organisation-wide team, led by Care Excellence, including Managers and frontline staff, have led the way, developing a common framework – one that defines what we do and what we aspire to each day.
We have also had the benefit of input from experts and thought leaders including Dementia Australia, Palliative Care Australia, Charles Sturt University and the Wicking Institute.
Most importantly, we have captured our residents' own words. We have held workshops with residents, families and staff across our Homes and had conversations with many residents – to put it another way, one in nine residents have been involved in co-creating Enrich.Enrich in our resident's words
MY VOICE
"We are treated as individuals, not as one group." Gwen, Villa Maria Fortitude Valley
MY CARE
"Staff ask you how your day was." Moya, St Catherine's
MY LIFESTYLE
"My friends call and say I'm never in my room – because there are so many things to do." Elizabeth, St Peter's
MY HOME
"We can decorate our rooms the way we want it. The maintenance men are always happy to hang something on the wall." Trisha, Bodington
MY COMMUNITY
"The staff and residents are like family." Jim, Our Lady of Loreto Gardens