Jemalong residents' dreams come true as they take to the skies over Central West NSW.
Alarms were set for 5am, and Hawaiian shirts and beanies donned as five l residents and three team members from Jemalong Residential Village in Forbes NSW took to the skies over nearby Canowindra in a hot air balloon. This unforgettable experience came about when 71-year-old Dianne nominated herself and fellow residents as part of Catholic Healthcare's MyWish program, granting once-in-a-lifetime experiences to people living in our residential aged care homes.
"I've always loved flying," says Dianne, "and I thought why not, I'm going to try hot air ballooning."
'It has always been on my bucket list and as it turned out, it was on the list of some of my friends at Jemalong, too," says Dianne.
The experience certainly lifted the spirits of residents and team members alike after the challenges faced during the pandemic, with smiles from ear to ear. Wearing their Hawaiian shirts to raise awareness for mental health, the group of first-timers enjoyed perfect conditions, taking in as they took in views of Canowindra and they drifted North East towards Orange.
Jemalong resident Sharyl felt like she was gliding peacefully through the air. "Admiring the flora and fauna below was amazing – we saw so many kangaroos!"
For team member Judith Prior, "it was wonderful to see everyone enjoying the experience and taking in the breathtaking views from hundreds of metres off the ground."
Celebrations continued after touching down, with a champagne breakfast at Montrose House in Canowindra. Dianne and friends also enjoyed a moment in the limelight as local TV and newspapers gathered to capture the experience.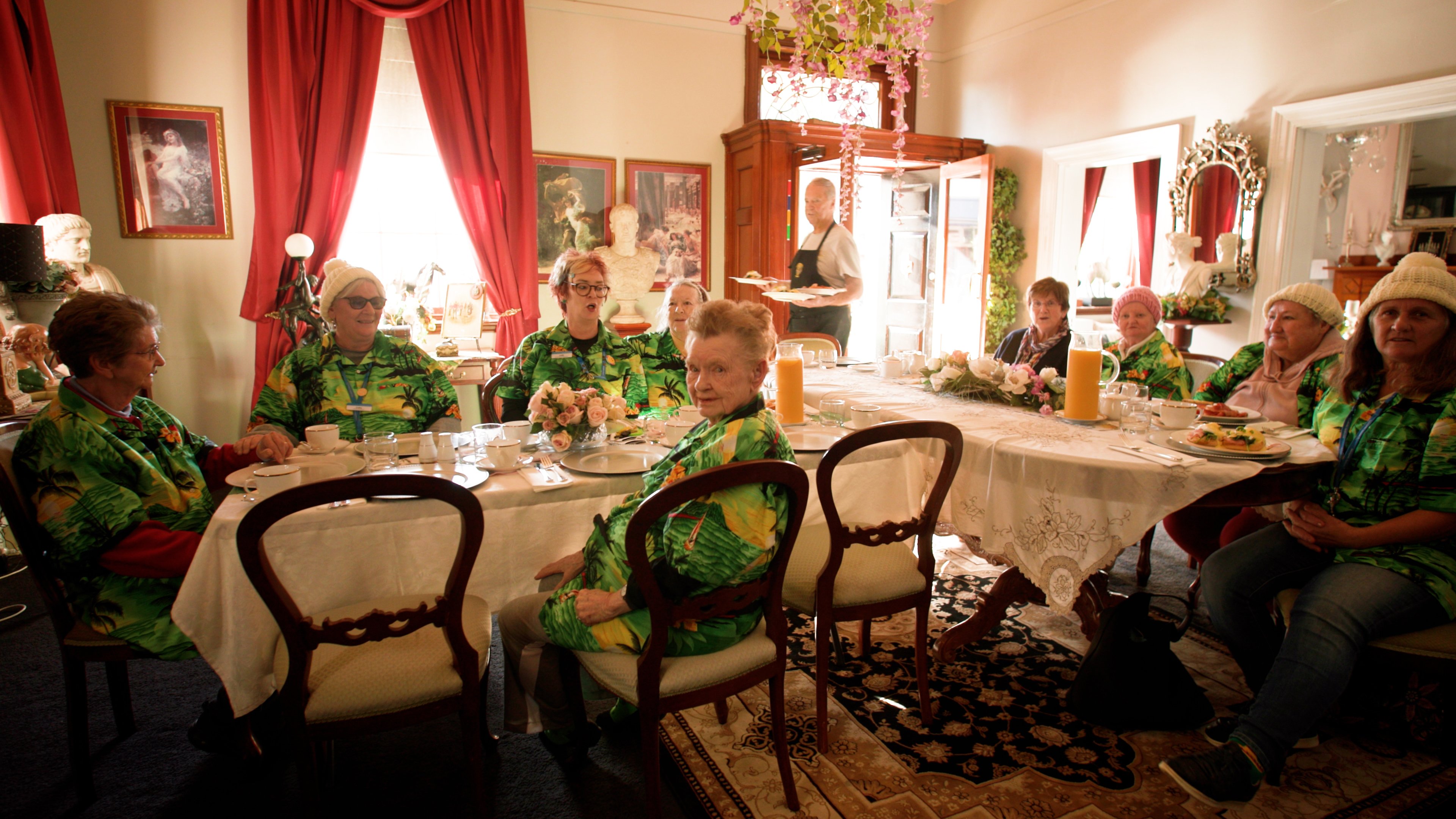 Above: The Jemalong residents dine at Montrose House after the hot air balloon ride
While the day was certainly one of the most exciting at Jemalong in recent memory, residents have shared several significant moments and milestones recently, says new Residential Manager Jacqui Handley. "We all joined resident Jan Toohey in May to celebrate a remarkable 38 years living at Jemalong!"
"Jan cheekily says that she has made friends for life at the Home, and if some of them were lucky, she might share her cake with them, which was made by Jemalong's amazing in-house catering team."
The hard-working team members and residents received an additional helping hand recently, when the Australian Defence Force personnel visited as part of a Federal government support program for the aged care sector. They helped with chores, serving meals and taking on the residents over games of pool, shuffleboard and cards! It is a secret though as whether the army boys or residents won. It was a special moment for Jean Coffey in particular bringing back memories of her time serving as a Private in the Australian Women's Army Service during World War II.
To watch a video of the MyWish hot air balloon experience click here.
To find out more about the Catholic Healthcare MyWish program or make a nomination, visit https://www.catholichealthcare.com.au/campaigns/mywish/.