For May Turner, a year 12 student at James Sheehan Catholic High School in Orange, Thursday is 'St Francis day'. Instead of putting on her school uniform, when her alarm goes off at 7am she prepares for her 8am shift.
May is en route to completing her Certificate III in Community Services through Western TAFE, Orange which includes working one day a week at St Francis Aged Care.
"I've always been someone who prefers to be on their feet, rather than just sitting in a classroom all day," says May.
"I really enjoy the balance of practical on-the-job-training and in-class work offered through the traineeship, although it can be challenging to juggle sometimes."
By the time May graduates with her Higher School Certificate at the end of this year, she'll have completed the industry-recognised qualification that involves a combination of paid work, study and training. For her HSC May is studying art, maths, English and religion. She spends the equivalent of one day doing TAFE online course work, one day at St Francis and the rest of her time at school.
May has been working at St Francis for over a year now and visibly lights up when she speaks of the residents.
"They all have such interesting stories to tell and great experiences to share. I've learned a lot from them," she says. "I love being able to make them smile. It could be something as small as helping them out with an app or assisting a resident with writing a letter to their family – it's so rewarding!"
May is special, in that she is the first student to complete a school-based traineeship at a Catholic Healthcare home. Her supervisor at St Francis Aged Care is Joanne Beldham who oversees May's work through the program in the Recreational Activities team at the home. Joanne's role as mentor is to support May's progress and keep in touch with her school to ensure she's developing the required skills and knowledge by liaising regularly with May's school and teachers.
"It's such a unique opportunity for the students to learn and really experience what it's like working in aged care, or whatever chosen field they are in," says Joanne, Recreational Activities Officer.
"May's confidence has sky-rocketed since coming to St Francis last year. She's come out of her shell and now she's now running the daily activities session herself each Thursday – including organising bingo, happy hour, crosswords and painting classes. I'm so proud of her."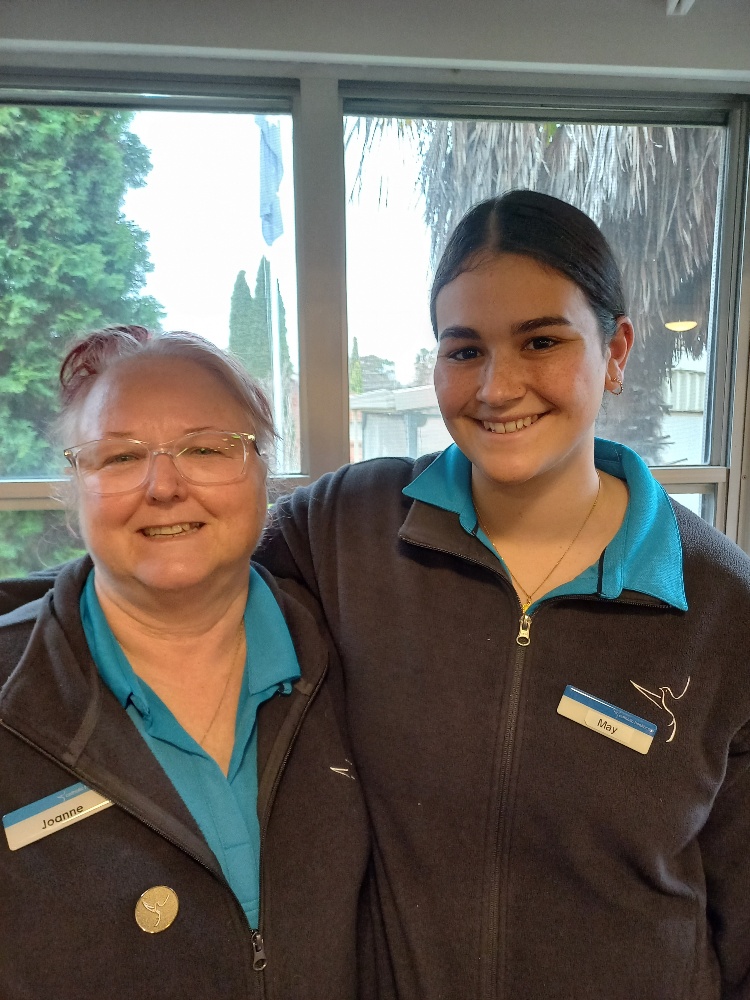 Above and top of page: Joanne and May at St Francis, Orange
"More than just part-time jobs, school-based traineeships are a great way for students to set themselves up for the career they want while they are completing their HSC," says Genevieve Menzies, Talent Development Specialist at Catholic Healthcare.
"For Catholic Healthcare, it will mean we are able to identify areas of need at our homes and actively seek out students to fill those gaps. It's also a pivotal way for us to prepare the future workforce and provide job opportunities for young people."
When asked what she wants to do when she finishes year 12 at the end of this year, May says she is still open to various options.
"I've always had an interest in working as a social worker. But whether that is in aged care or in another area like disability or youth work - I'm still open to those options," May says.
May also appeared in local media including print, radio and TV including this clip below.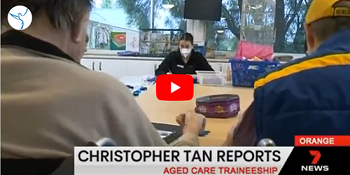 If you, or someone you know is interested in undertaking a school-based traineeship through Catholic Healthcare, call 1800 225 474 to get in touch with our HR Learning & Development team - click here.