Why was six afraid of seven?" Daniel, student from Hilltop Road Public School asks Simon, resident at St Hedwig Village. "Because seven ate nine!" he replies.

Peals of laughter followed during a video call session run by Intergenerational Learning Australia (ILA) Researcher and Program Director Greg Cronan with Year Five students from Hilltop Road Public School and residents of St Hedwig Village in Blacktown.
The virtual session is part of an innovative program by ILA designed to foster reciprocal learning and behavioural outcomes for both young and old. Run on a weekly and fortnightly basis across Sydney, the program is a collaboration between primary schools and aged care homes.
The intergenerational learning program's foundations lie in evidence-based research led by Emeritus Professor Anneke Fitzgerald of Griffith University, who was one of the consultants for the popular ABC series Old People's Home for 4 Year Olds.
"The ILA program helps students develop interpersonal, social and emotional skills through discussions with a much, much older age group, while also deepening their understanding about language and communication," Greg explains.

"The children are from a highly digital generation, and our sessions help them with their vocabulary, empathy, attentiveness and general behaviour in the classroom. It also helps to improve their practical inquiry-based learning skills."

Greg says by connecting both generations the program helps students foster respect, care, admiration and gratitude while also diminishing any prejudices they may have in terms of ageism.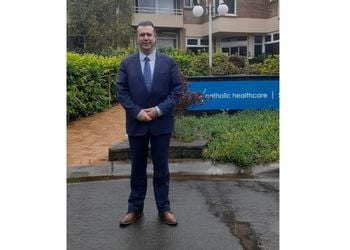 Above: Intergenerational Learning Australia's Program Director, Greg
Residential Manager, Helen says the program is proving just as rewarding for the residents at St Hedwig Village, where the response has been positive since it began at end of October 2021.
"The residents really look forward to the sessions with the children, and it is often the highlight of their week!" Helen says.

Currently the ILA program is also being run at Villa Maria Eastern Heights, and there are plans to expand into other Catholic Healthcare homes.
For more information call 1800 225 474 or click here