Wow!
Congratulations to all our amazing Catholic Healthcare Hoarding and Squalor team that has been crowned with the national 2022 HESTA Excellence Award for Team Excellence.
The award recognises teams that have developed and/or improved a product, service, process or system to enhance the health and wellbeing of individuals, families and/or communities and have gone above and beyond the everyday demands of their role.
The Hoarding and Squalor team – who is part of our broader Home and Community Services team that helps improve the quality of life of older Australians – can definitely tick that box.
Led by Mercy Splitt, the team provides support and services to older people in NSW facing issues with hoarding and squalor. Through expert case management, the team offers individual and group-based supports to help clients manage accumulation tendencies, reduce risks to safety and risk of homelessness, and improve mental health and wellbeing.
Profound beginnings
True to our Catholic Healthcare Mission and Values, the Hoarding and Squalor team recognised the increasing need for an improved service response to the complexity of managing hoarding and squalor and providing in-home supports to individuals in NSW as a full program in 2015.
The service now offers comprehensive case management, one-on-one decluttering, rubbish removal, forensic cleaning and teaching of living skills across NSW, expanding in 2022 to reach the Inner West, Northern Sydney, Hunter and Mid-North Coast, and Riverina Murray regions.
Even more recognition for Home and Community Services!
Ironically on the same night, the innovAGEING National Awards 2022 were also held.
It was a huge achievement for the pioneering program of mind+move – Smart Technology – to be named a finalist in two categories.
While we didn't win on this occasion, the program was nominated as a fresh Home and Community Services offering to tackle the issues of isolation and loneliness that older Australians faced during flooding, bushfires and COVID-19 lockdowns.
Smart Technology launched in October 2021 in consultation with YourLink and trained 80 frontline employees to become digital coaches to support residents and clients attending online sessions for Apple and Android users.
The course empowered clients by teaching them or increasing their confidence to take photos and videos, shop online, video conference, join online libraries and staying in touch with loved ones.
Congratulations to Home and Community Services General Manager Therese Adami and all the team on their outstanding achievements and continued work in bringing out the best in themselves and our clients across the Catholic Healthcare Home and Community Services network.
To read more about the 2022 Hesta Excellence Awards, follow this link. To learn more about the innovAGEING awards, follow this link.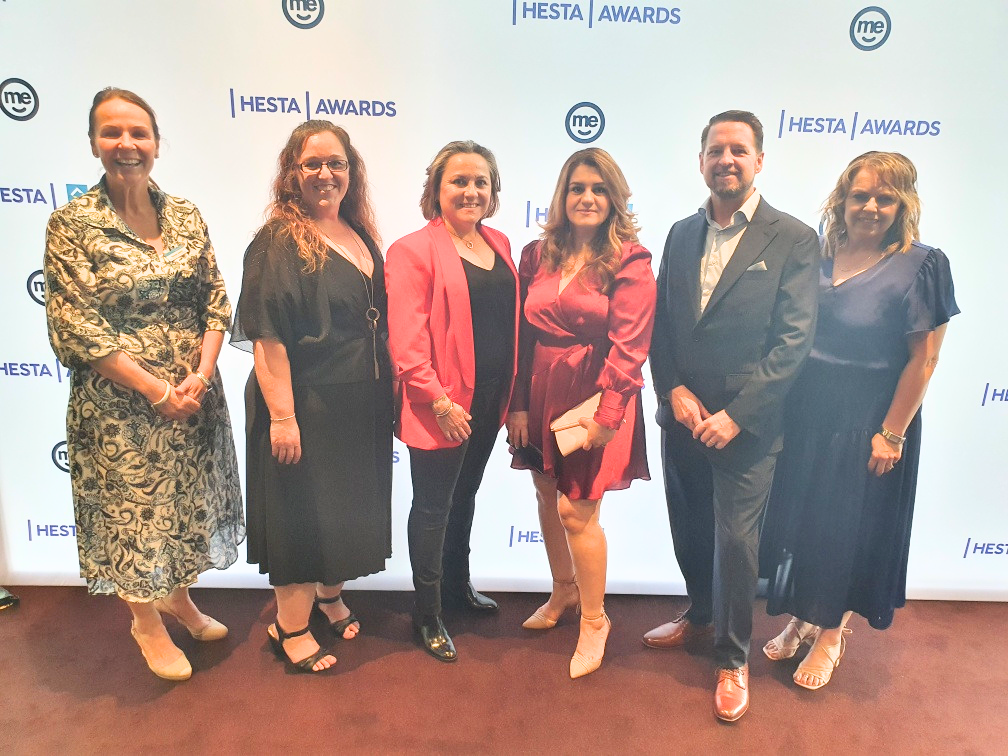 Caption: The Hoarding and Squalor leadership team L to R Therese Adami, Amanda Peterson, Mercy Splitt, Sama Mansour, Simon Lee, Audrey Van den Heever