With Christmas just around the corner, many of our Homes have been making Christmas crafts, staging festive activities and organising special Christmas photos.
The residents at St Paul's, in Northbridge, have been making some beautiful Christmas crafts, in the lead up to Christmas.
"Our residents have been making Christmas wreaths using tinsel, little 'Merry Christmas' signs and sparkling stars to hang on their doors, as a personal touch. They've also been painting Christmas trees and making stars out of paper for decorations for the dining room," says Ticha, Personal Care Assistant.
"It is really hitting home that Christmas is coming soon, and it's nice to be able to make these Christmas crafts and start to feel the joy and spirit of the Christmas season at the Home."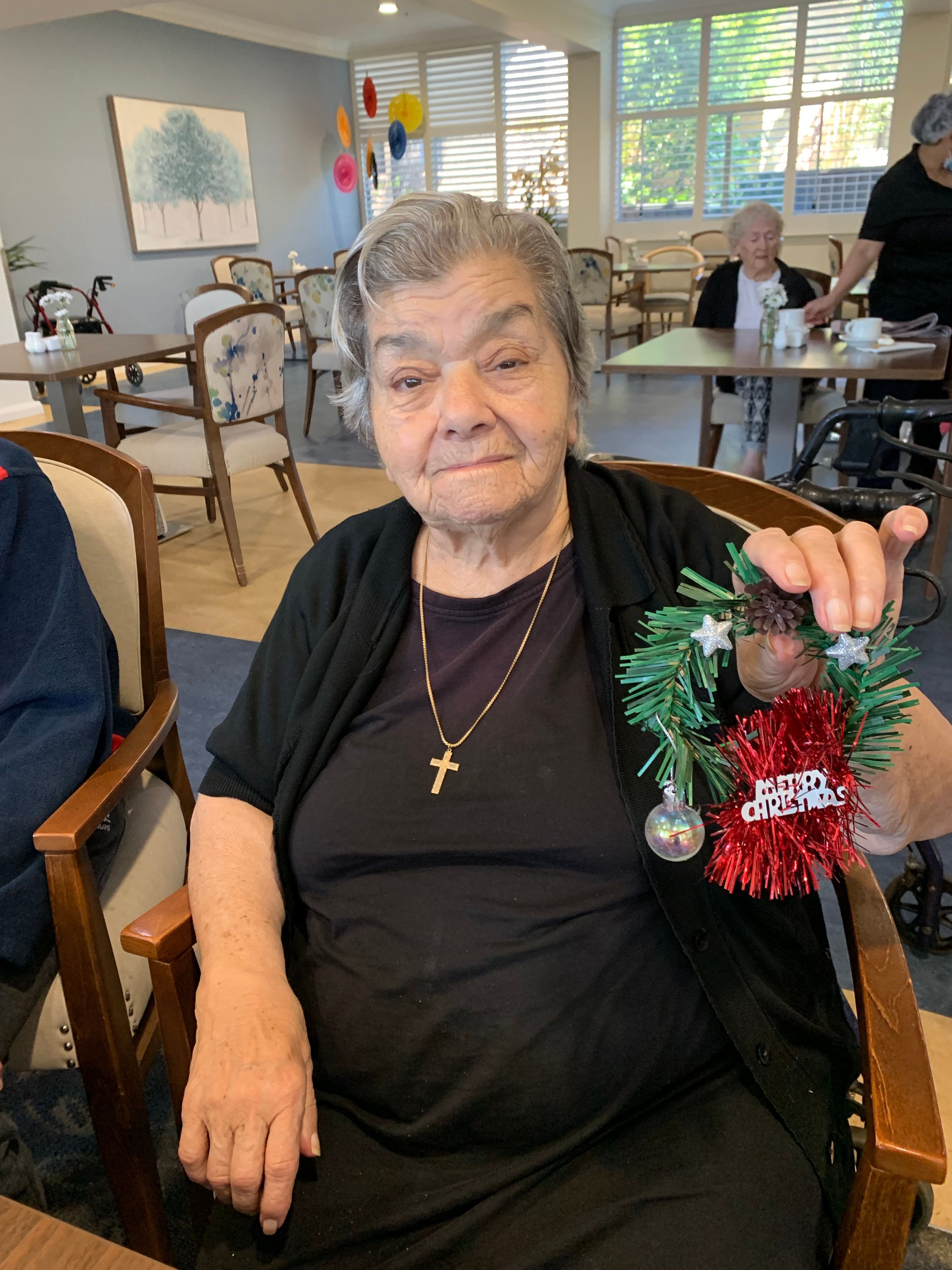 Above: Resident, Marie, at St Paul's in Northbridge with her Christmas wreath
Over at Villa Maria (Fortitude Valley), the residents and staff have been having their Christmas photos taken.
"Each year, we take Christmas photos of the residents and staff near the Christmas tree," says Joanne, Diversional Therapist.
"This year, we have an adorable set up with a toy soldier, giant Santa and hanging Christmas lights from the fireplace."
Above: Resident, Milvia, poses for her photo at Villa Maria Fortitude Valley
The residents and staff at the Home can choose to wear various 'reindeer' headbands, and hold ornaments, as they pose for their special Christmas photos.
"There are a lot of upcoming festive activities planned, including a Christmas carol concert, a high tea celebration and a special Christmas day lunch, to name of few," says Joanne.
It is certainly the most wonderful time of the year, and it is great to see many of our Homes embracing the joy of the holiday season!
For more information call 1800 225 474 or visit
https://www.catholichealthcare.com.au/residential-aged-care/