There's nothing better than strengthening the mind or body as well as learning new things no matter your age or stage of life.
This is exactly what Catholic Healthcare offers clients at the mind+move Leisure and Wellness Club, located in our McQuoin Park community in Wahroonga, Sydney.
Club coordinator Niall Heaney is excited about the array of new programs on offer that provide the flexibility of engaging face-to-face or online.
"No day is ever the same here," he says. "Within minutes, we can go from a Smart Technology session sharing tips and tricks on using smart devices, to clearing the floor for a Tai Chi session."
The Wellness Centre is open to both existing Home Care clients as well as the wider community. There is also a low monthly membership fee option, or a pay as you go casual rate, perfect for those who want to experience a sample of our courses on offer.
As well as the Smart Tech program, the growing list of activities at mind+move include art classes, book club, meditation, trivia, pilates, yoga, seated exercises, concerts and day trips.
Smart Tech Stars
Congratulations to our first face to face graduating Smart Technology class at mind+move. Over five weeks, these happy clients have learned how to make the most out of their smart devices including apps, email, photo sharing, video calling and more.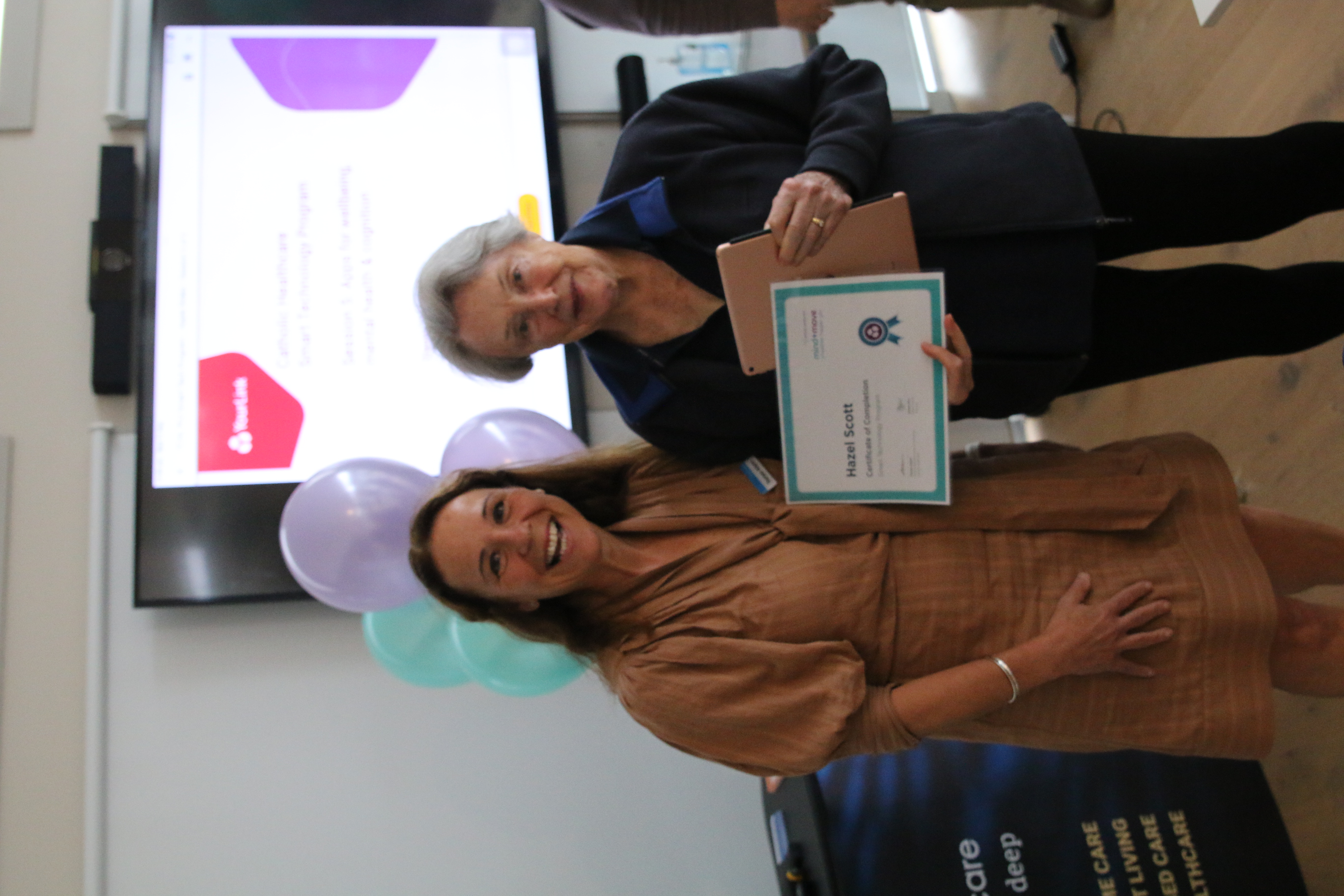 Above: Therese Adami pictured with a graduate of the Smart Technology program
Therese Adami, Catholic Healthcare General Manager of Home and Community Services, presented certificates to the graduating class. "This program is all about helping clients to build meaningful connections, grow in confidence, and have fun with their smart devices."
"There were so many things that I didn't know how to use, but now I'm very confident with my tablet," says graduate Paula. "My favourite app that I've downloaded is Candy Crush Saga."
"I've really enjoyed learning how to find podcasts online, and I listen to them all the time now," adds fellow graduate Helen.
For more on the mind+move program, phone 1300 978 264 or click here
To find out more about future Smart Technology Apple or Android classes click here