Indie, a Labrador border collie cross, or 'borador', was first introduced to the residents at Holy Spirit Dubbo when she was just four months old. Matthew, Indie's owner and Recreational Activities Officer brought the lovable canine into the home for the pet visits program over four years ago. Since then, Indie (who just turned five in April), has become part of the family in Dubbo, visiting each Wednesday.
"Indie has a gentle temperament by nature and is very smart and intuitive, but also very hard work!," says Matthew, laughing. "Naturally, we call her 'independent Indie'. She's very suited to pet visits."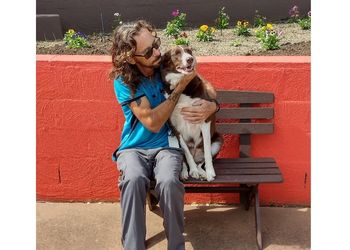 Above: Matthew and Indie
The team at Holy Spirit Dubbo, which is home to more than 60 residents including 13 living with dementia, decided Indie had the skills to fulfil the official role of 'pet visit dog' and from there has been visiting the home as part of the catered pet visits program for nearly five years.
"I love her soft coat and her velvety ears. I just love to rub her belly and spend quality time with her," says Norma, resident.
Indie and Keith, resident
"She's a good mate to have around every week, and makes Wednesdays that much more special," says Keith.
Under the pet visits program Indie is free to wander around the home and engage with the residents. She visits each resident individually in their rooms, and politely greets them at their doors. She takes part in the daily chair exercise classes, tries her hand at bingo and is known to make the residents laugh out loud with her antics!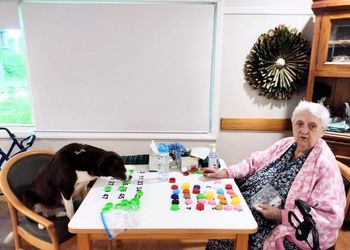 Indie tries her hand at bingo, with Melba, resident
Indie is trained at dog sport and has undertaken second level 'nose work' and other targeted training. She is skilled at airport detection work, including non-illegal drug detection. She has been bred specifically to interact with the elderly, having undertaken behavioural training ensuring she doesn't ever jump on residents, take their food or damage their delicate skin.
Research has shown that older people can benefit positively from interacting with pets and animals, making them feel more energised, enthusiastic and inspired. Engaging with animals can reduce tension, fatigue, confusion and encourage positive emotions and attitudes. It can also delay the process of ageing through the increase of physical exercise, socialisation and improvement in mental function.
Indie has made a big impact particularly on the residents in Lachlan Lodge, the home's Memory Support Unit, which accommodates 13 residents with dementia. One resident, Elizabeth, visibly lights up each time she sees Indie. Another, Joan, has formed a great bond with Indie and has started talking with her.
"It's really magical to see the effect Indie has had on the dementia residents," says Matthew.
"Indie encourages the residents who are more non-verbal, to interact with her and to start communicating with her in their own way.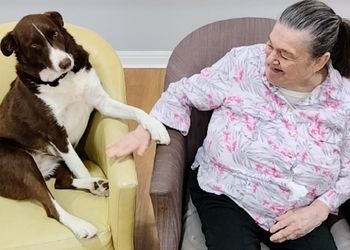 Indie and resident, Elizabeth greet each other
Indie even attended (the late) Memory Support Unit resident, Chris' funeral pre-COVID-19, as his family wanted her to walk down the aisle at the service. Chris passed away in June 2020, and was especially close to Indie.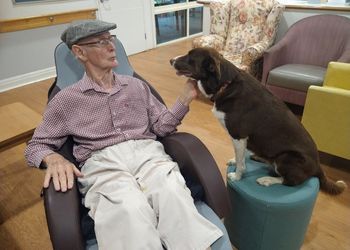 Above: The (late) Chris, (former resident) and Indie interacting
"At Holy Spirit Dubbo, lifestyle activities and community connections are the key to wellbeing for residents," says Bec Higgs, Lifestyle Coordinator at Holy Spirit Dubbo.
"Indie is just another part of that mix. She has brought so much joy into our residents' lives.
"It's clear when you visit Holy Spirit Dubbo that Indie loves being a part of the community as much as the residents, families and team love her!"
Pictured top of page: Indie and resident, Dot
For more information on Holy Spirit Dubbo call 1800 225 474 or click here