The Ageing Well Masterclass series began earlier in the year, with face to face sessions in Lidcombe, Liverpool and Haberfield. The five-part series, designed to provide practical tips and advice around the common issues with ageing covers a range of topics relevant to seniors.
One of the topics covered in the second masterclass, Physical Wellbeing with guest speaker Erin, Business Manager and qualified Occupational Therapist from Catholic Healthcare, included tips for staying healthy and maintaining your physical wellbeing as you age. Below is a taste of this masterclass.
Staying Active and Healthy in Your Later Years
"You can't help getting older, but you don't have to get old."
George Burns
Exercise is important for all ages, but for people over 65, staying active has a range of benefits. By being proactive with the type of exercise and activities you choose, you can stay healthy for longer and maintain your physical and mental wellbeing well into later life.
The benefits of physical exercise
With age comes the increased risk of injuries due to falls or other accidents due to a gradual decline in balance, strength and flexibility. In fact, one in three people over the age of 65 have a fall each year. Research has shown that just 30 minutes of moderate intensity exercise a day can reduce the risk of falls by up to 30%. Exercise can also help people recover from illness and prolonged periods of immobility or hospital stays.
Exercise not only keeps your body strong, but it helps ward off depression, anxiety and a range of other psychological issues due to the release of endorphins and other chemicals. It also aids overall brain health, improving memory and executive functioning.
"As we age, exercise is a great tool to help build and maintain strength in our bone muscles and joints, keeping you mobile and active for longer," says Erin Stubbs, Catholic Healthcare expert Occupational Therapist (and guest speaker for our Ageing Well Masterclass on Physical Wellbeing).
What kinds of exercises and activities can I do?
The type of exercise is the one you enjoy and can keep up regularly. There are plenty of local programs and groups aimed at people 65+. Activities on offer through your local community groups, Catholic Healthcare wellness centres or seniors clubs, which include:
Yoga
Water-based aerobics and exercises
Chair exercises
Weight-training and resistance-training
Tai Chi
Golf
Lawn Bowls
Exercise can also be incorporated into your daily activities - including walking to the shops or doing the cleaning, gardening and chores around your home.
"Evidence shows that lots of 'little' exercises can make a difference to your overall wellbeing, improving brain function, mental health and quality of life," says Erin.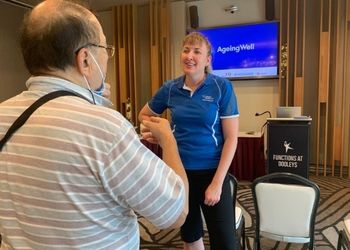 Above: Erin Stubbs hosts the Physical Wellbeing Masterclass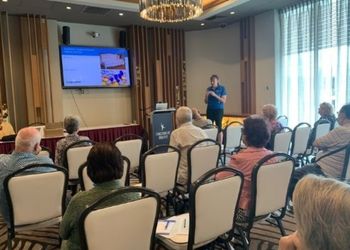 Above: Clients at the Physical Wellbeing Masterclass
Tip: Speak to your physiotherapist, occupational therapist or general practitioner for further advice or before changing your exercise routine or starting a new activity.
Find more expert tips on all aspects of healthy ageing at our Ageing Well Masterclass series.
Our Ageing Well masterclass on Physical Wellbeing will explore the benefits of physical exercise and will cover topics such as nutrition, falls prevention, health checks, carer fatigue and memory loss as we age, with guest speaker, Erin Stubbs, Catholic Healthcare Business Manager for Home and Community Services, Northern Sydney.
Register below for your preferred location in Liverpool, Haberfield or Lidcombe.
https://www.catholichealthcare.com.au/events/ageing-well/
Catholic Healthcare also offers a range of health and wellness programs including Feel Fit, Walking with Confidence and other exercise classes, available to clients at multiple Catholic Healthcare locations across Sydney, as well as the Central Coast, Hunter and Southwest NSW. The tailor-made exercise and leisure programs help clients to live happier, healthier lives.
Contact us to find your nearest location. Phone 1800 225 474 or visit: